Landscape Construction Billerica, MA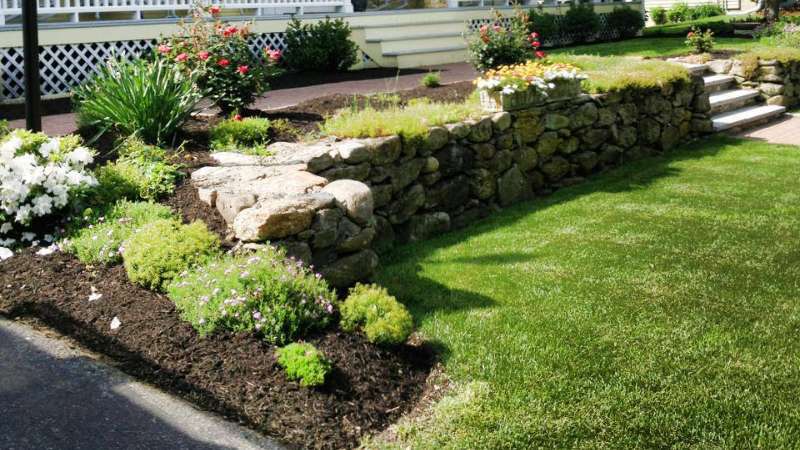 Landscaping Construction and Installation Billerica, MA
Are you interested in landscaping services for your property?  Investing in your landscaping will improve your properties curb appeal, increase your property value, and make your property a more enjoyable place for you and your family to live.  If you're looking to make improvements to your landscaping we're glad you've found our website!
Most landscapes incorporate two main elements.  These are hardscaping and softscaping.  Hardscaping is all of the "hard" or permanent man-made elements in your landscape such as a concrete or paver patio, a walkway, a retaining wall, or an outdoor living space.  Hardscapes are generally more expensive to install but they also require less maintenance than a softscape.  Softscaping is the "soft" non-permanent elements of your landscape such as garden beds, trees, plants, mulch beds, and lawn areas.
Why Do You Need A Landscaping Service?
Are you embarrassed by the appearance of your property?
Have you bought a new-to-you home that needs some landscape improvements?
Do you want to make your property more enjoyable and suited to your lifestyle?
Do you want to renovate your current landscaping?
Do you want to makeover your front or backyard?
There are many reasons you might want the services of a professional landscaper and the most important part is finding a company you can trust to transform your property into what you've envisioned.
Pineau Landscape Construction is a landscaping contractor based out of Billerica, MA and serving Lowell and the surrounding area.  We specialize in landscaping services including design and installation of both hardscapes and softscapes.  Whether you're looking to renovate your front or backyard or you want to install a few new garden beds, a new lawn, a block retaining wall, or a new patio, hiring a professional landscaping team will ensure your property is going to look great and the job is done right the first time.
Landscaping Installation Services We Offer:
Garden bed construction
Planting trees, shrubs, and perennials
Water feature construction (waterfalls, ponds, streams)
Soil delivery and spreading
Gravel delivery and spreading
Do You Need Help Deciding What To Do With Your Property?
Designing your own landscaping on your own without any professional input can be confusing.  You know you want to renovate your landscape so it's more visually appealing and enjoyable but you just don't know what is going to work best with your specific property?  You aren't sure what trees, shrubs, or plants to use or where to plant them?  You want a low maintenance landscape but aren't sure which plants would be best?  You aren't sure how to tackle that slope or fix your drainage problems?  We've heard it all from our customers and we're here to help!
We offer professional landscape design services custom tailored to your property and your specific style and taste.   You can put our years of experience and knowledge of plants to work for you so we can transform your property into your own private retreat.
Do you love to entertain guests with outdoor BBQ's or summer parties?  Do you love to have a beautiful garden with lots of interest and color?  Are you looking for privacy from your neighbors?  Do you want to take advantage of the natural contours of your property?  There are so many different factors that we'll take into consideration to help present you with some ideas for an amazing landscape that will compliment your property and fit within your budget.
If you'd like to schedule a consultation with us to discuss your landscaping design or installation ideas we'd be happy to meet with you.  Please call 978-430-1632 or fill out our online form and we'll get right back to you.