Landscape Lighting Installations Billerica, MA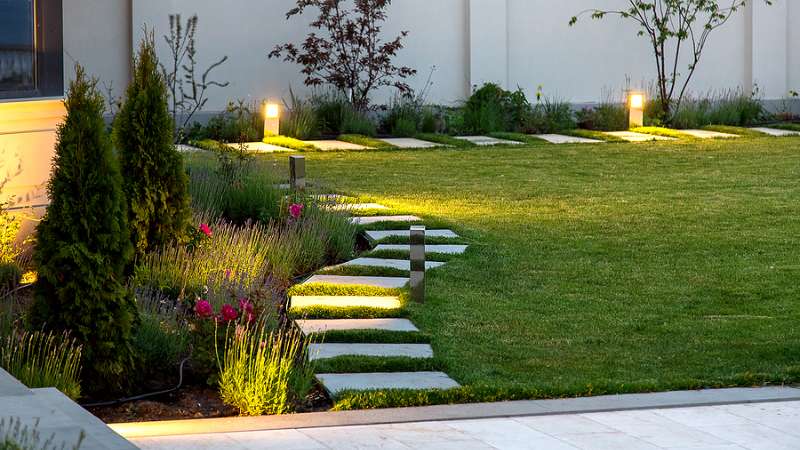 Landscape Lighting Installations Billerica, MA
We install low-voltage and LED lighting systems
Landscape lighting can make a dramatic difference in the appearance of your property as the sun begins to set and the land grows dark.  Properly planned out and installed landscape lighting doesn't just dramatically improve appearances it can also provide more security and it can also improve the safety around your property as well.
Pineau Landscape Construction is a local landscaping company based out of Billerica, MA and serving Lowell and the surrounding area.  We specialize in designing and installing landscape and outdoor lighting systems for residential and commercial properties.  Whether you want to illuminate your driveway, some specific gardens, your home, or make a safe evening pathway on a commercial property our team of landscape lighting specialists can come up with a fantastic lighting solution for your property.
Landscape Lighting Installations We Offer
LED Landscape lighting
Driveway lighting installations
Garden lighting installations
Pool deck lighting installations
Deck and patio lighting installations
Upgrading existing landscape lighting to LED lighting
Garden spotlight installations
Outdoor security lighting
Deck & Patio Lighting Installations
If you don't use your deck or patio very much at night because of poor lighting you could be missing out on a whole of enjoyment from your property, especially for those who like to entertain guests with dinner parties or BBQ's during the warm summer months.  We can install LED lighting into deck stairs and around the perimeter of your deck or patio to make the area safe and enjoyable when the sun sets.
Why Choose Pineau Landscape Construction For Landscape Lighting?
Pineau Landscape Construction is your best local choice for landscape lighting installations.  When you choose to work with Pineau Landscape Construction to design and install your new landscape lighting you are partnering with a locally owned business that cares about your project. Our team has the knowledge and experience to illuminate your property to draw attention to the specific features you want to highlight, increase safety, and increase security.
You can always expect knowledgeable, creative, design, and installation services and great communication from a company that cares about your properties appearance and our local reputation in the community.
If you'd like to get an estimate to design and install a landscape lighting system on your property then please give us a call 978-430-1632 or fill out our online contact form and we'll get back to you right away (usually the same day).